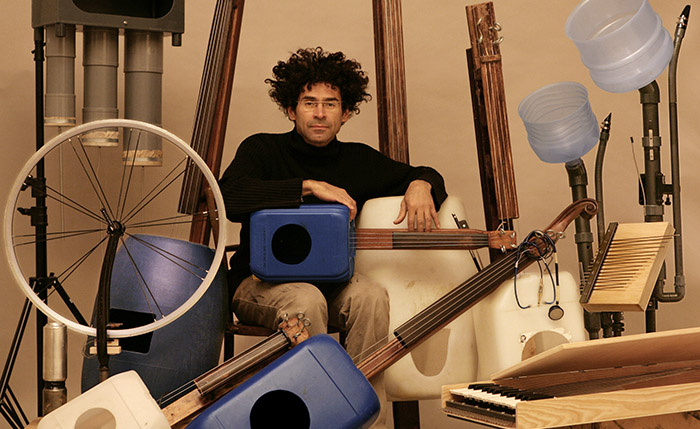 Born in Brazil, Luiz Simoes lives and works in Barcelona since 1986.

Selected exhibitions and installations
2015  Prophetia - PROST. In collaboration with artist Sabina Simon . Fundación Joan Miró, Barcelona
2014  Artphilein Collection on display - Emptiness. Artphilein Foundation Lugano
2012  PROST. In collaboration with Sabina Simon for the Untergangart Event. Kunsthalle - Museumsquartier, Vienna
2011 Selected Works. Gassmann, Zürich
2011 Music for 18 things & Requiem for 2 Basuróphonos. International Museums Day. ARTIUM, Vitoria
2010  Guest Artist, Viola-Me and Música para 18 cosas. Il Corpo Violato, Torino
2009  Guest Artist, Hot Art Basel 09, Basel
2009  Guest Artist, Las Cosas. 10th Bienal de La Habana
2009  VERTIDOS. Centro Cultural Puertas de Castilla, Murcia
2008  VERTIDOS. Galería Blanca Berlín, Madrid
2008  Arco 08, Mi propuesta. Colectiva Galería Joan Gaspar, Madrid
2007  Silent Escape. Galería H2O, Barcelona
2006  VERTIDOS. Brasilea Foundation, Basel
2006  SymmetroS. Brasilea Foundation, Basel
1998  Around the Himalayas. Museu da República, Rio de Janeiro
1998  Around the Himalayas. Museu da Imagem e do Som, São Paulo
1996  Voices. Audiovisual installation in metro stations of Barcelona. European year against racism
1992  SymmetroS. Galeria Fotoptica, São Paulo
1992  SymmetroS. Fundação CSN, Volta Redonda, Rio de Janeiro
1991  13 Fotógrafos 13 fotos. Colectiva, Galeria 110, Rio de Janeiro
1990  Landscape for a future earth. Galeria Collectors, São Paulo
1989  Abstract Landscape. Galería Railowsky, Valencia
1988  Glaciares Alucinógenos. Galería Tartessos, Barcelona
By Pepe Font de Mora - Fundaión Colectania
Many things connect me to Luiz Simoes and I admire him for many other reasons, but what fascinates me about his character and his work is the capacity for astonishment.  
The magnificent settings in his collection Silent Escape are startling, conveying a sense of silence and solitude with a great sense of subtlety; he is never too distant or too close in the complex undertaking of finding balance between technique and expression.
10 Tríptics, a reflection about the nakedness of thought, is an iconic series: reserved, overwhelming, brilliant. Like in the best short story, he knows how to measure what to say, no more and no less, to find a surprising and devastating end.
Luiz is obsessed with several themes in his work and he expresses them through music, painting, writing, through audiovisual brushstrokes and works that become increasingly more sculptural, but where photography is still the core. His determination to understand the world as a whole, maybe due to his scientific education, is made clear in the Tempo series in which his reflection about oxidation, time, fragility and irreversibility meanders through death and our connection to pain. In this work he has revealed a vision of narrative, although each piece also has a closed and individual reading.
Vertidos y Las Cosas are his most symphonic works. They require staging, a musical score, audiovisual and performance to create an all-encompassing experience around the images. While in previous works, he moved out of the paper and out of the frame, this work requires the exhibition space to reflect about the nature of the universe in which we coexist. I invite you to come and see it at the gallery, to let yourself be surrounded and seduced by the work of an artist that becomes ever-more complex and evocative with the passing of time.
 By Diana Gort - 10th Bienal de La Habana
"Every story is contained in the language",1* in the word; that one that builds for us a whole symbolical imagery in which we exist: "we do not make the language, the language makes us".2* We exist in the same measure in which we are named, in the same measure in which we build –more and better– the narrative space: time.
Babylon , "with its brick buildings and temples that rose like unfinished pyramids", saw in the sole language a first step toward world domination. One of its legends goes that "there the gods were scared of men's arrogance, that threatened them even in their heavenly premises".3* Because our relation to the world has always been a bipolar one. Good-bad, ugly-pretty, subject and object, we and the other, we and things.
Las cosas (Things). That is the title of the exhibition presented by Luiz Simoes at the Tenth Havana Biennial. Born in Brazil , now a Spanish citizen, he left his Biology studies to dedicate himself to photography. At present he uses various techniques and works in conceptual projects that take him years of conception and achievement, and finally take the form of objects.
"All I do is reflect on existence, on the fragility and irreversibility of everything; this is my main concern and it is present all over my work" 4*. Las cosas, in addition, is the result of the artist's travelling years and of his "will to understand the world from a global form, perhaps due to his scientific training".5* In this four-piece series: "Plasticosa", "Electronicosa"; "Eva, Adán y las cosas" and "¿Qué cosa?" the artist questions our relevance in the universe: "we are so arrogant and homo-centric that we create God in our image and likeness".6*
Las cosas is a glance from above, but where he includes himself, where Simões sees us as small components of a big machine, as in the piece "Electronicosa". It is a narrative from the language, from a concept of the history of man with years of elaboration that not only takes us back to Babel as metaphor of homo-centrism but to the "Know yourself" told to Aristotle by the oracle of Delphos, or Gauguin's "who are we, where do we come from and where are we going".
Las cosas (Things) asks about man, who is also a thing. From the moment when we name ourselves, from the moment when we ask ourselves who we are, where do we come from and where are we going, we are also an object, another thing among things. Man: what thing?
1 Alberto Abreu Arcia. Los juegos de la escritura o la (re)escritura de la Historia.
2 Martin Heidegger. Holderin y la esencia de la poesía . Digital library of Theory of Artistic Culture.
3 Introduction to the Exodus . Latin American Bible.
4 Luiz Simoes. Dossier Tempo. www.luizsimoes.com
5 Pepe Font de Mora. Catalog Vertidos y Las cosas Luiz Simoes.
6 Luiz Simoes. Interview with the artist. Tenth Havana Biennial, 2009.
 By Patricia Züttel - In Hot Art Basel 09, to swissinfo.ch
"10 Tríptics is a project in which I talk about the nakedness of thought. The intellectual nudity, the most intimate we have.
Simoes has very clear his thoughtful considerations on art focused on the existence. About the title of his work 'De un polvo vienes y al polvo volverás', literally 'From a dust you came to dust you shall return', he explains to swissinfo:
"De 'un polvo', and not 'del polvo', as in the bible. In Spain 'polvo' means dust, but 'un polvo' means to have sex, a fuck, in slang. On the left image -terracotta, acrylic varnish, and metal dust on canvas I represent the Earth, the dust from which everything comes. On it I wrote with acrylic the chemical symbols of the Periodic Table. At the right, my body is covered with mud and metal dust. Between the dust from which we come and the dust to which we'll return is life to be lived. At the same time so much and so little".
And wile Luiz describes modestly his artisan and reflexive nature, his approach to biology, his incursion on photography and other techniques, an art collector approaches and tells me enthusiastically: "I love his work; I'll take him to Shanghai!